NA2 Smart Countertop Garbage Disposal
Regular price

$699.00

Sale price

$243.00
Black Friday Sales- Up to 65% off
THE LOWEST PRICE FROM NOV. 22 TO NOV.26

2.5L of capacity, designed for a family with 1-4 members
Instantly minimise food waste by 85% volume & 95% weight (2.5L downsize to 0.35L
Turn food waste into natural, organic, chemical-free Nagual Organic in 3 hours on average
Removes 80%-99% of kitchen food waste odour
Quiet operation < 44dB
Embrace Sustainable Practices at Home

✅ No more wasted expenses: Cut costs on specialized kitchen waste bags.

✅ No more smelly storage woes: Effortlessly manage kitchen waste odors.

✅ No more plumbing nightmares: Say goodbye to clogged pipes and costly repairs.

✅ No more compromised efficiency: Ditch less effective composters for transformative waste management.

✅ No more complex processes: Experience simplicity and efficiency with intelligent one-click waste handling.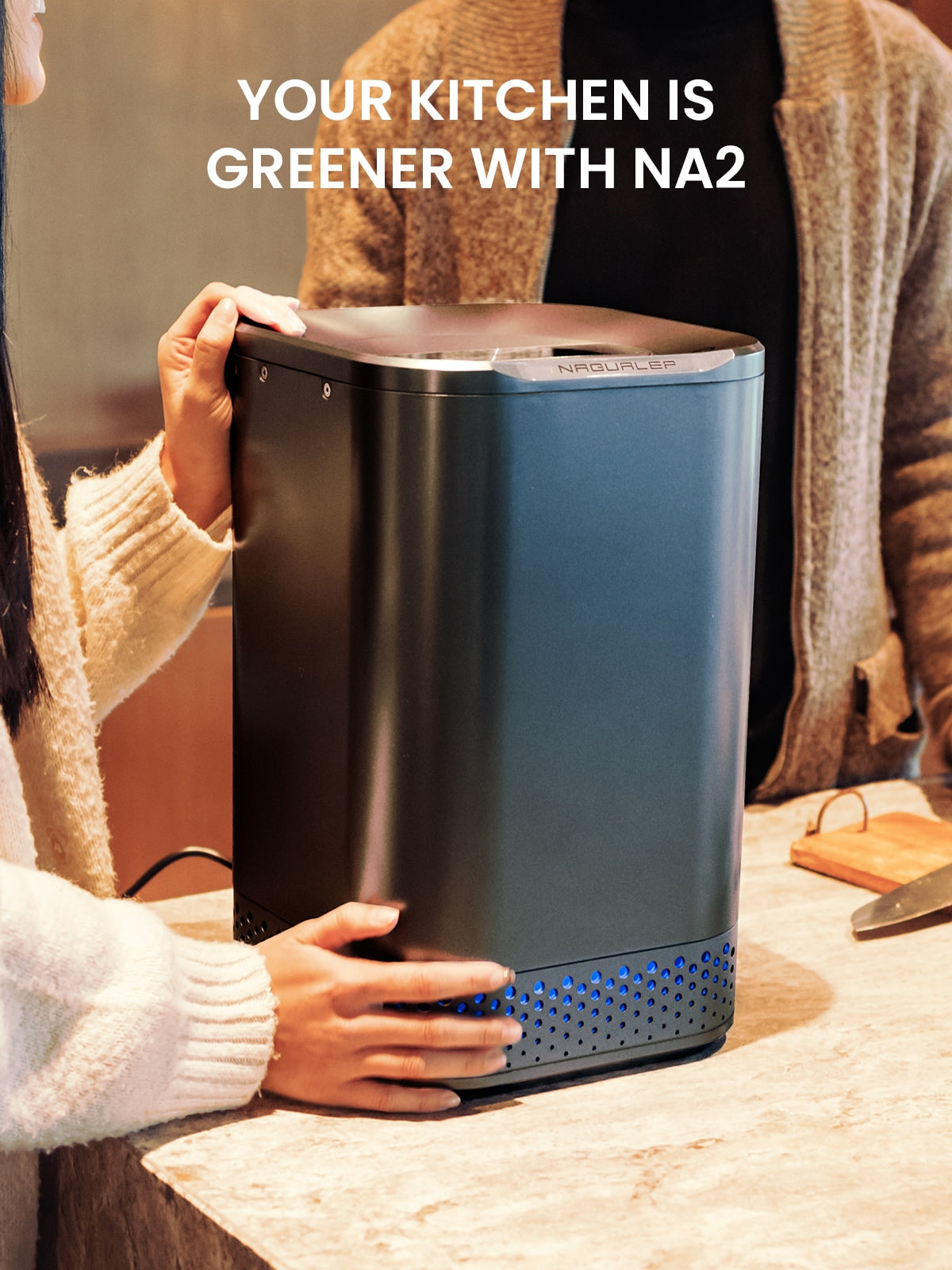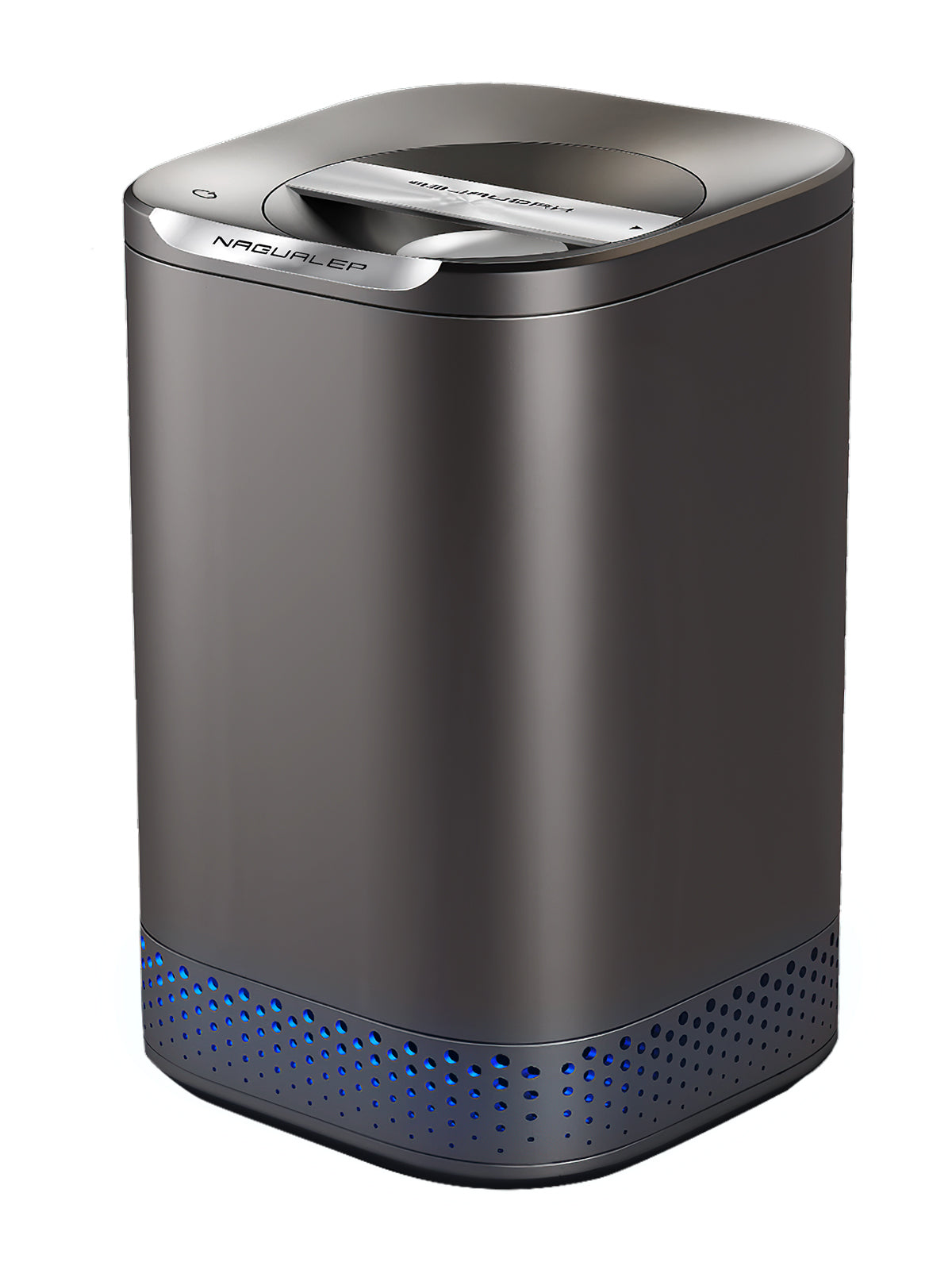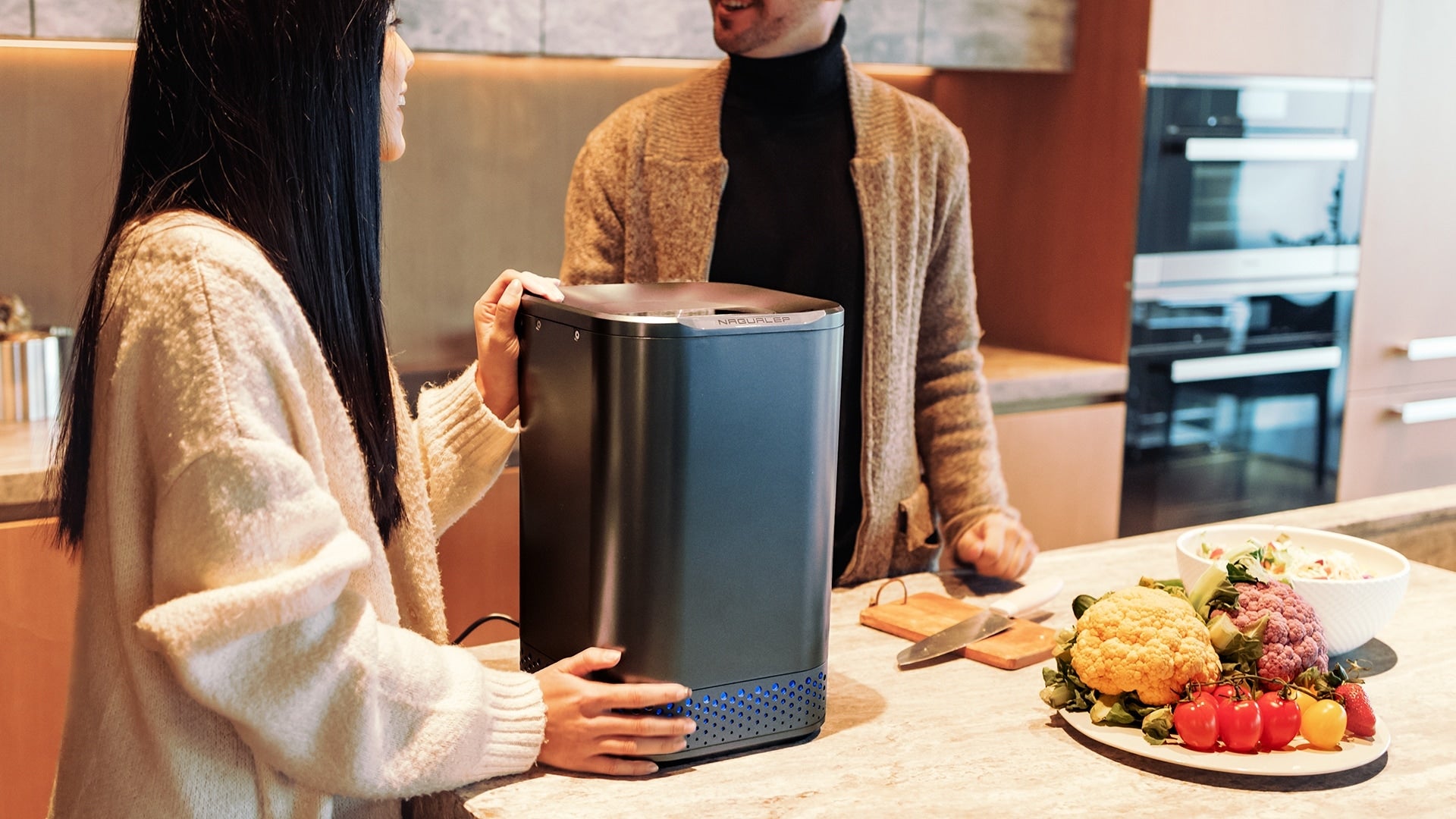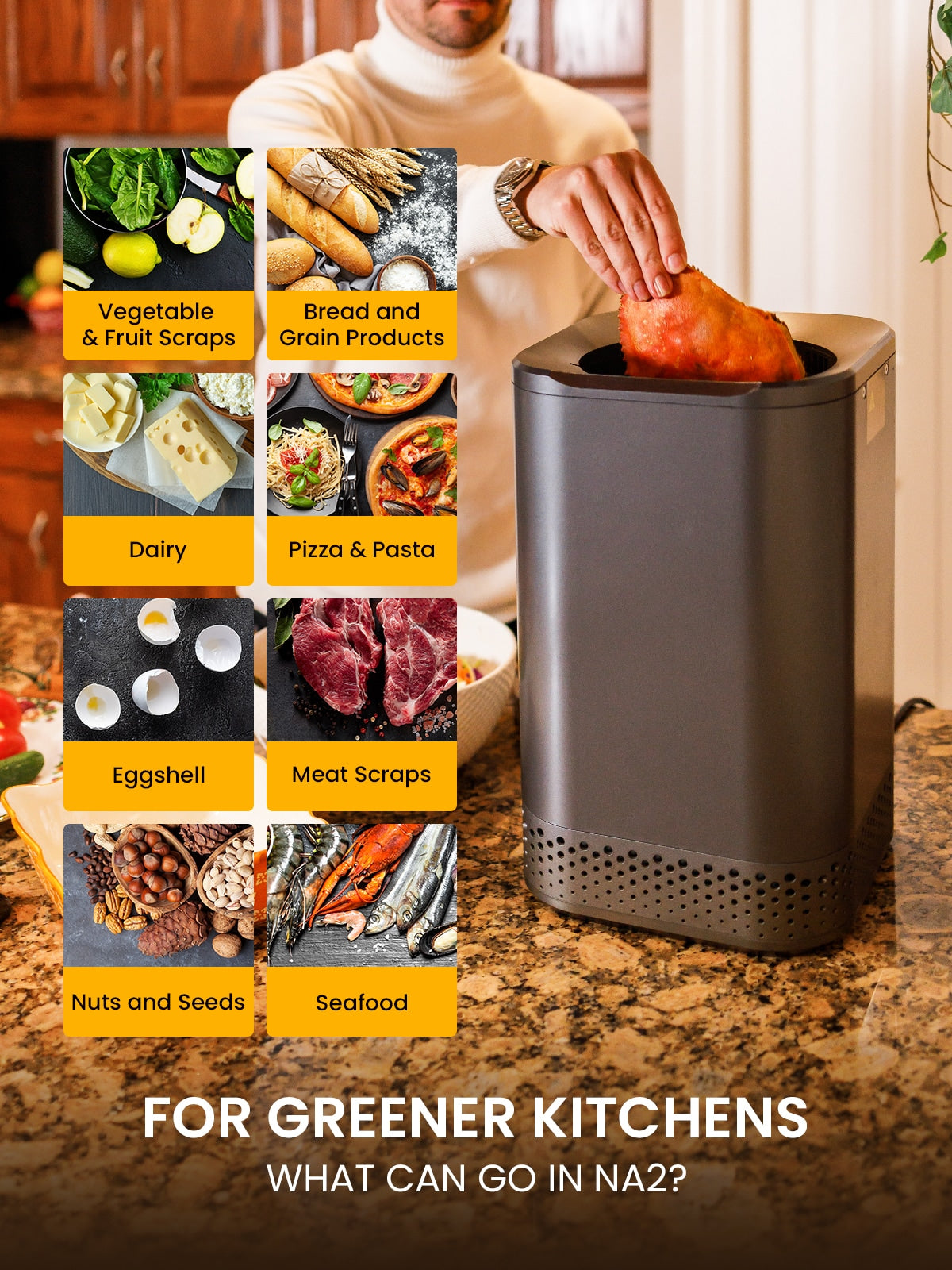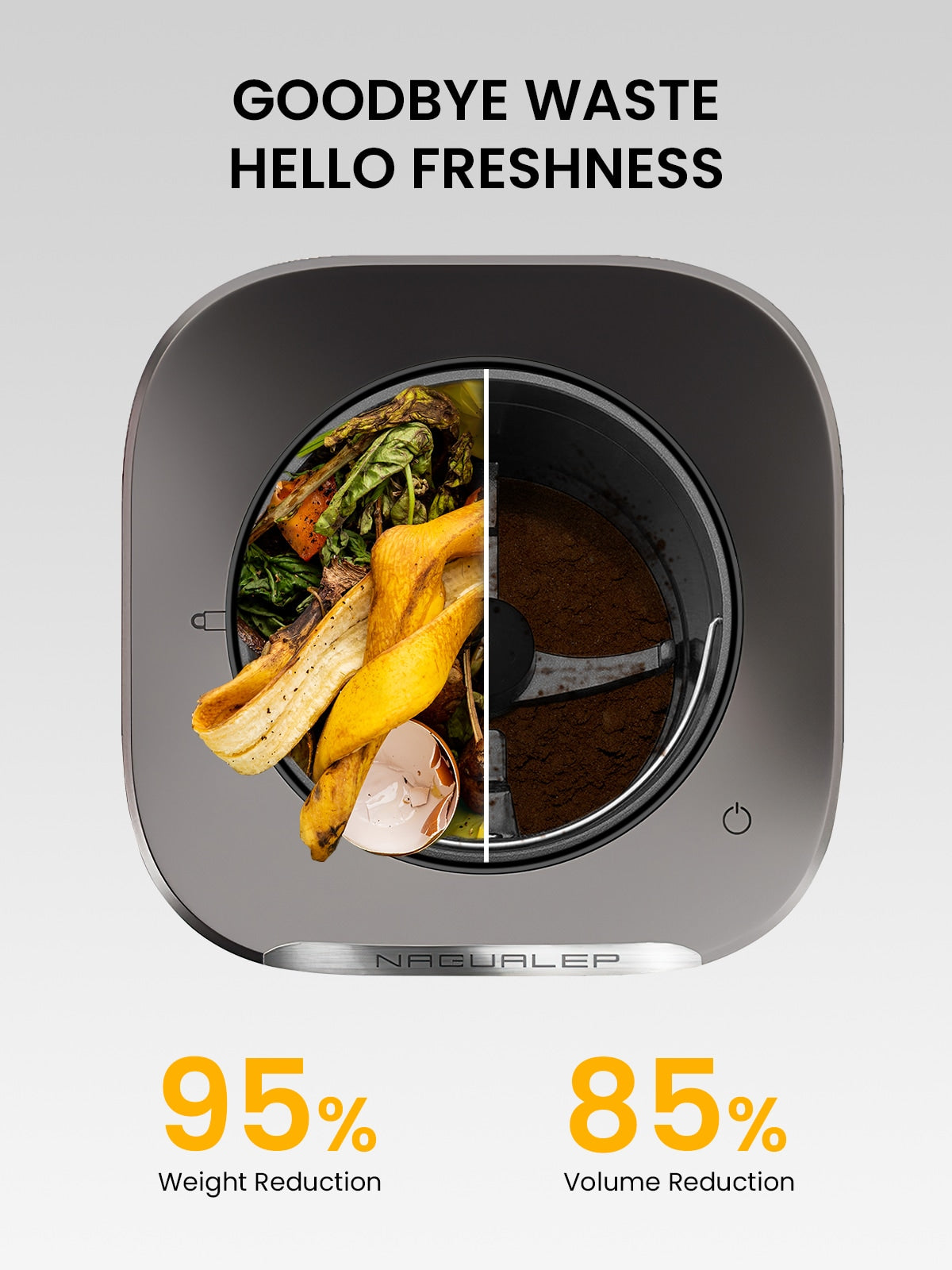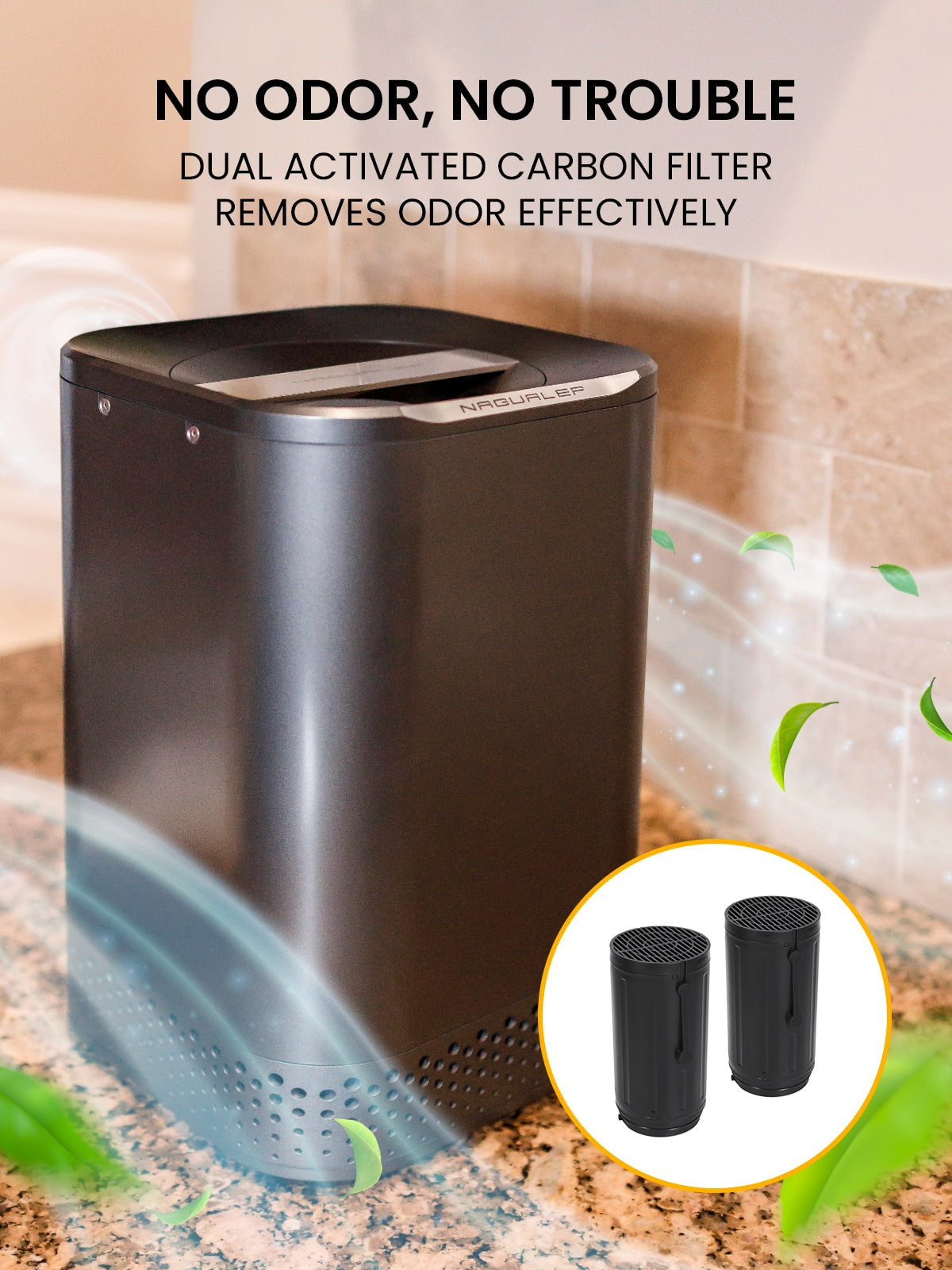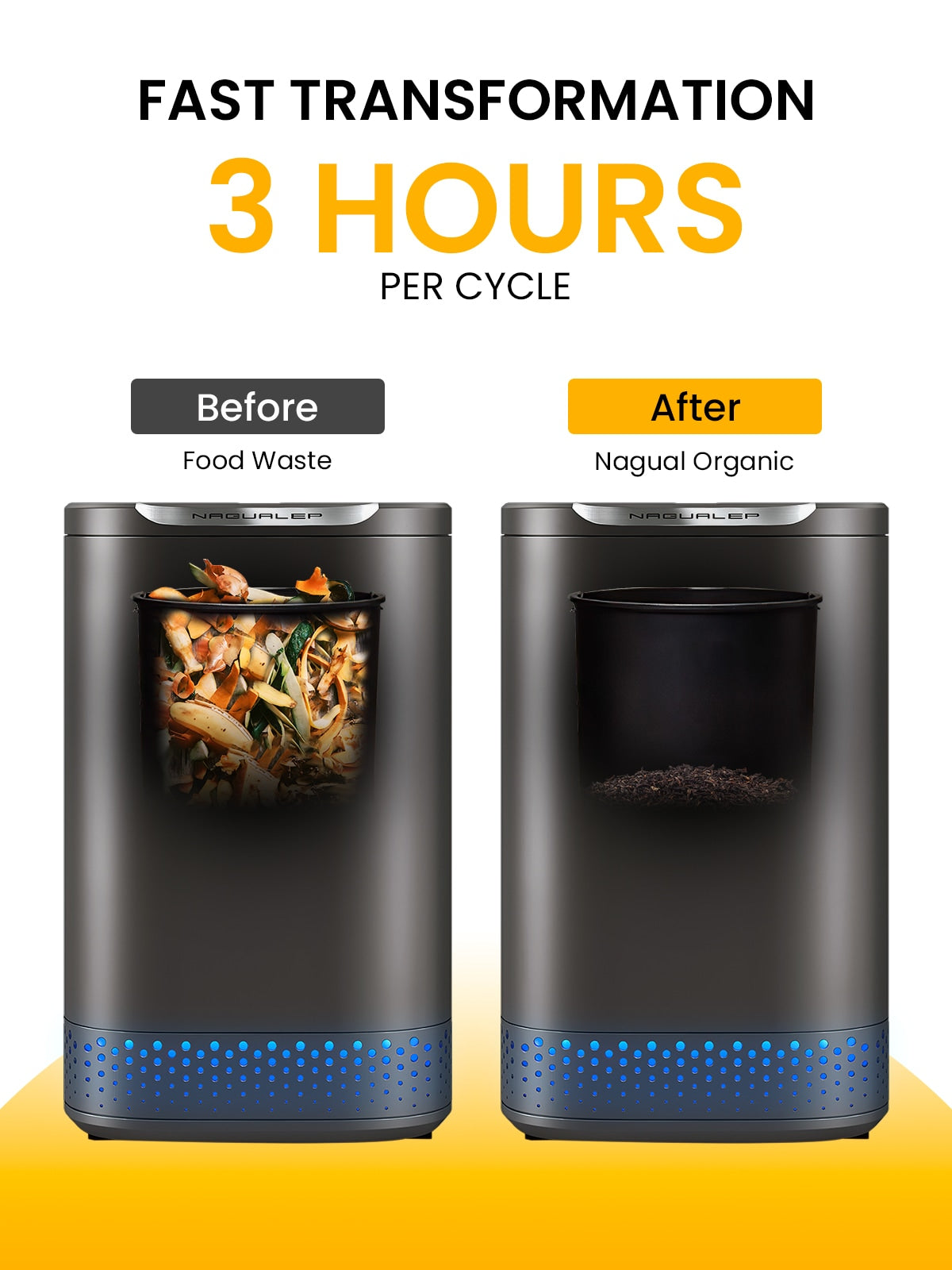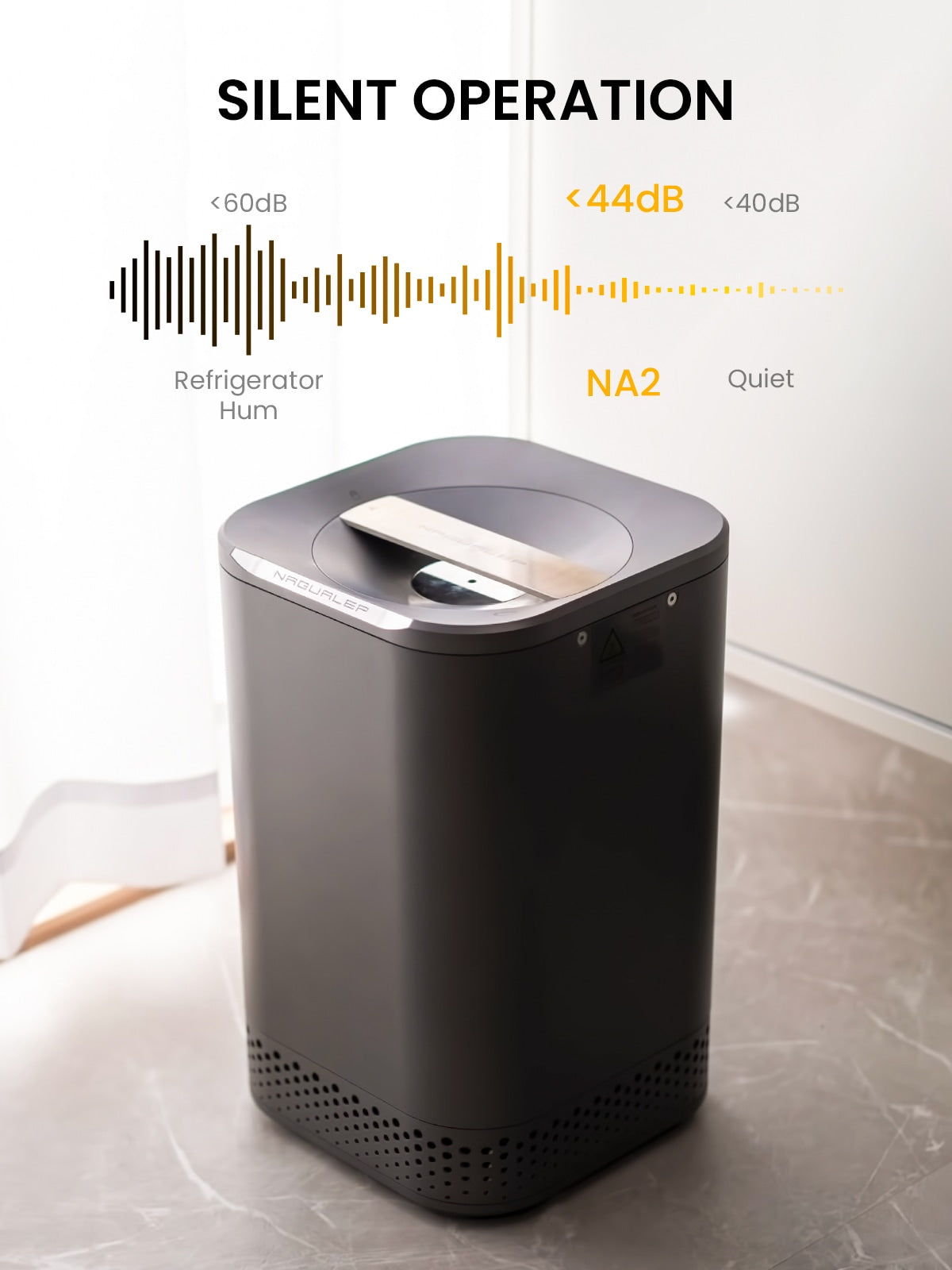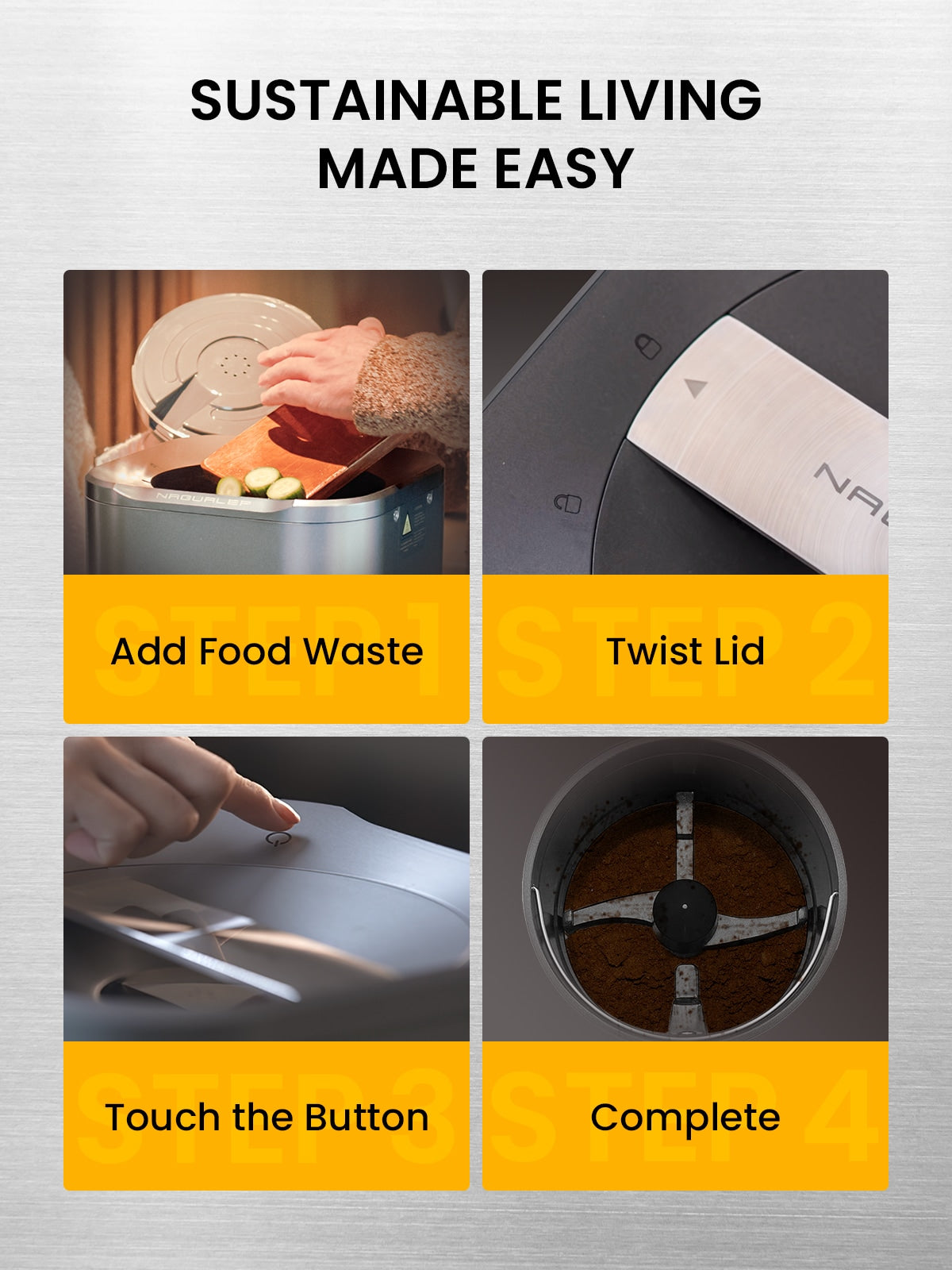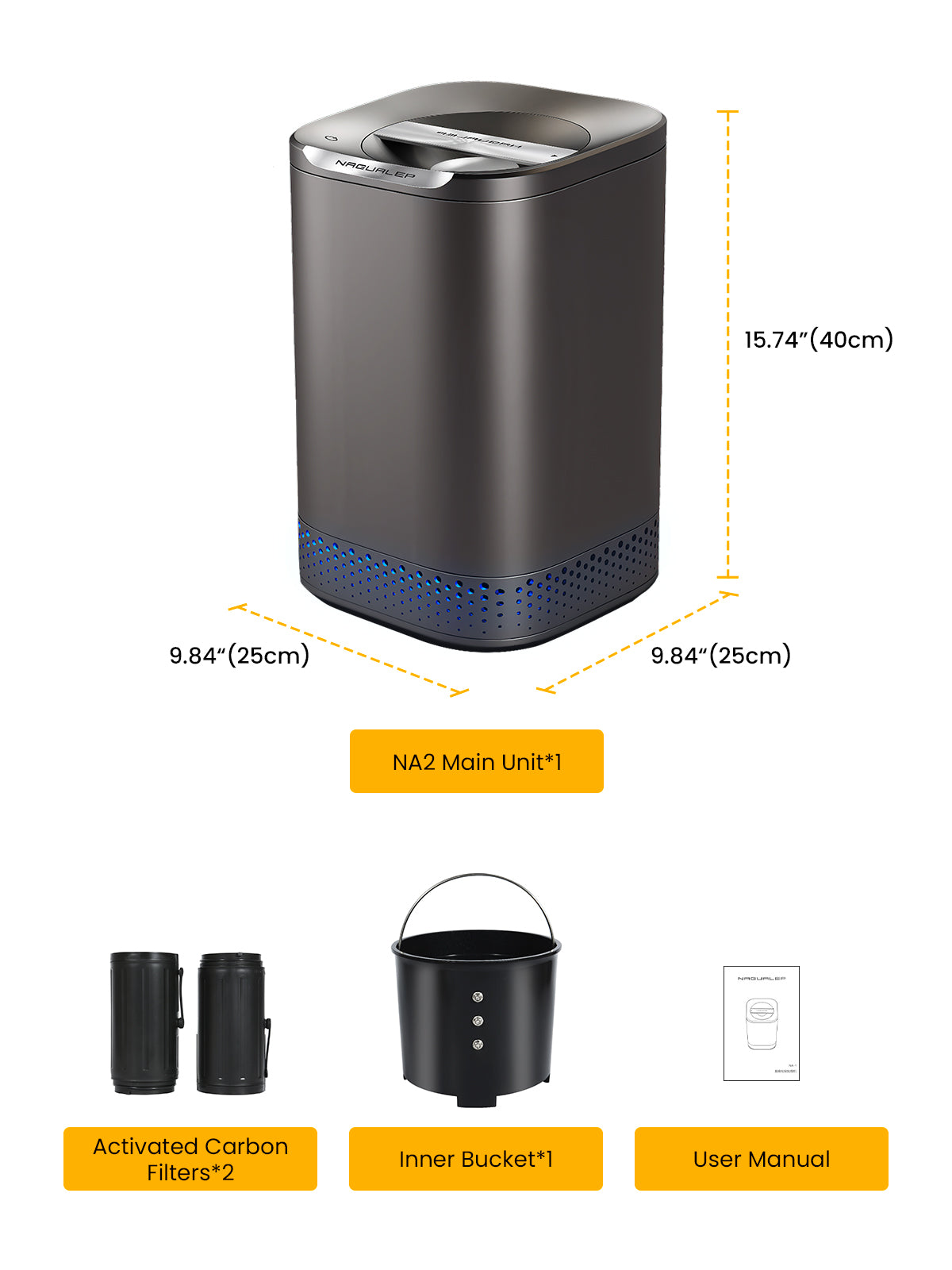 Instantly Minimize Food Waste by 95%
Reduce your waste footprint by 95%. A single 3 hour operation that processes 5.5 pounds of garbage quickly.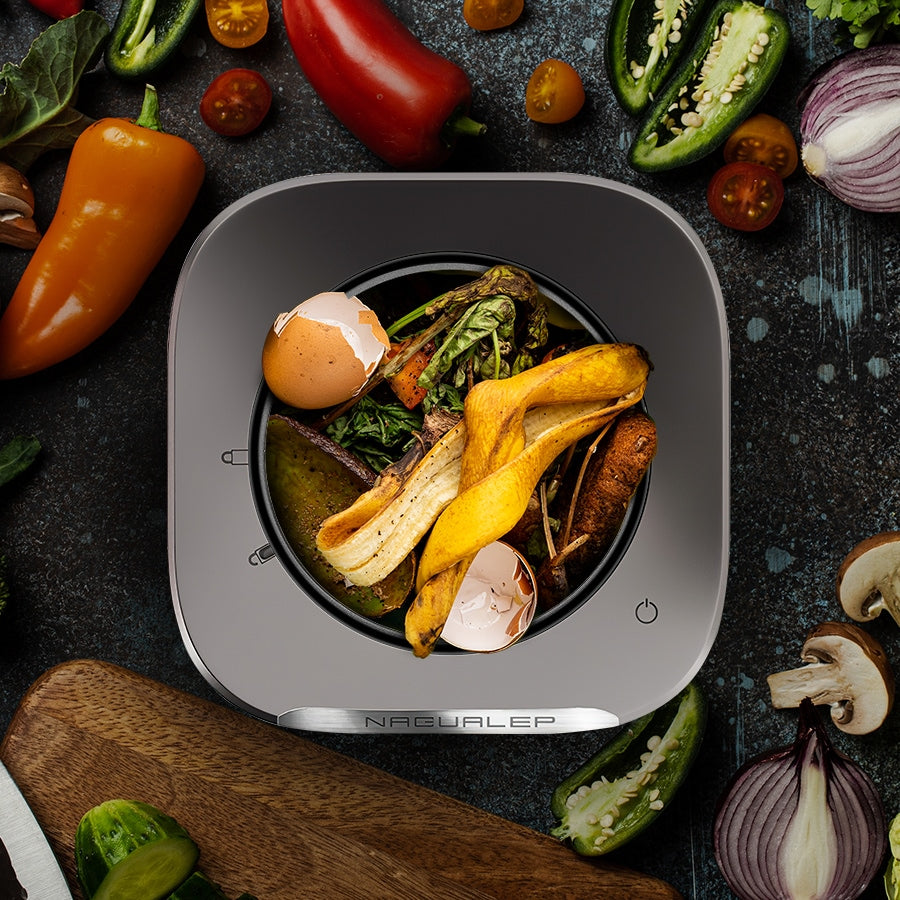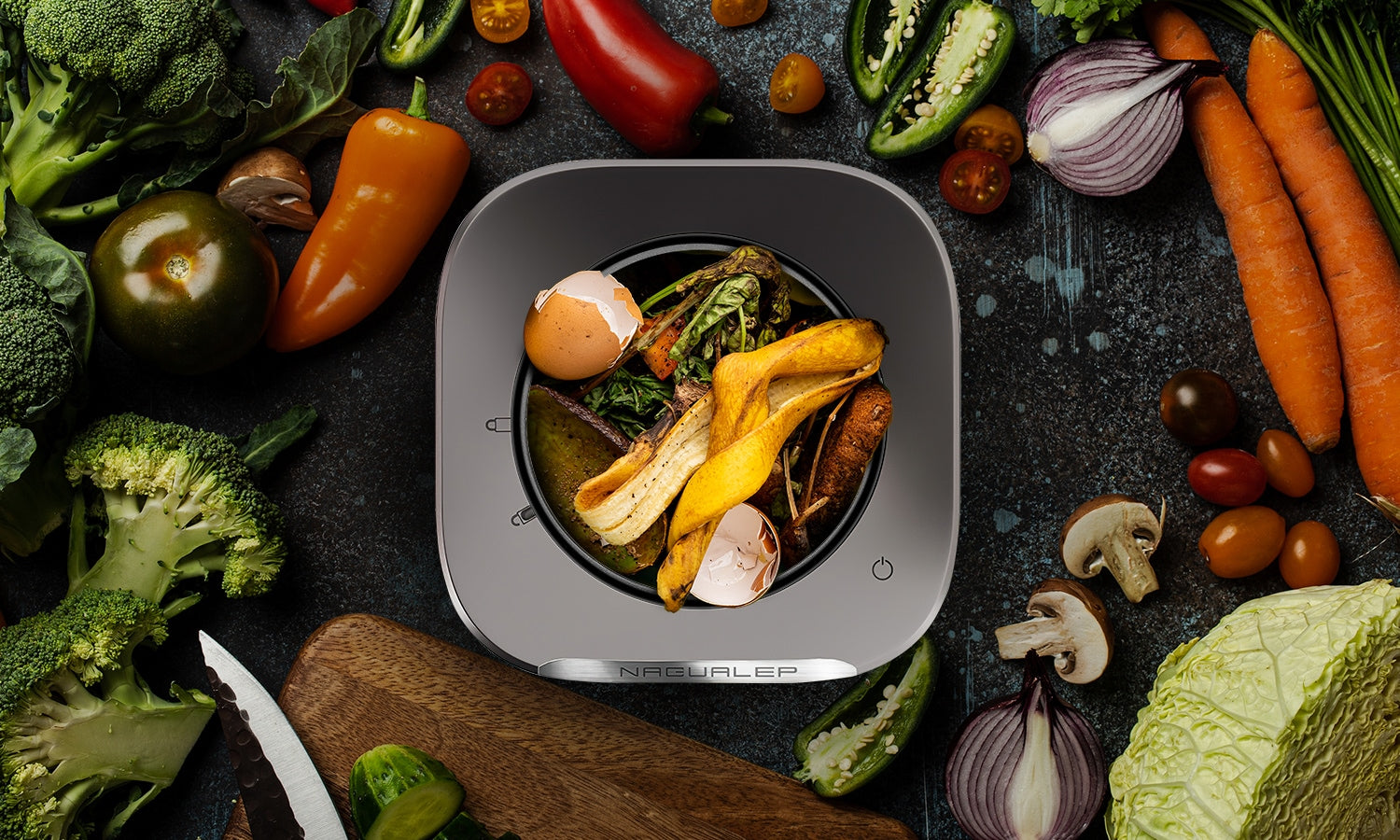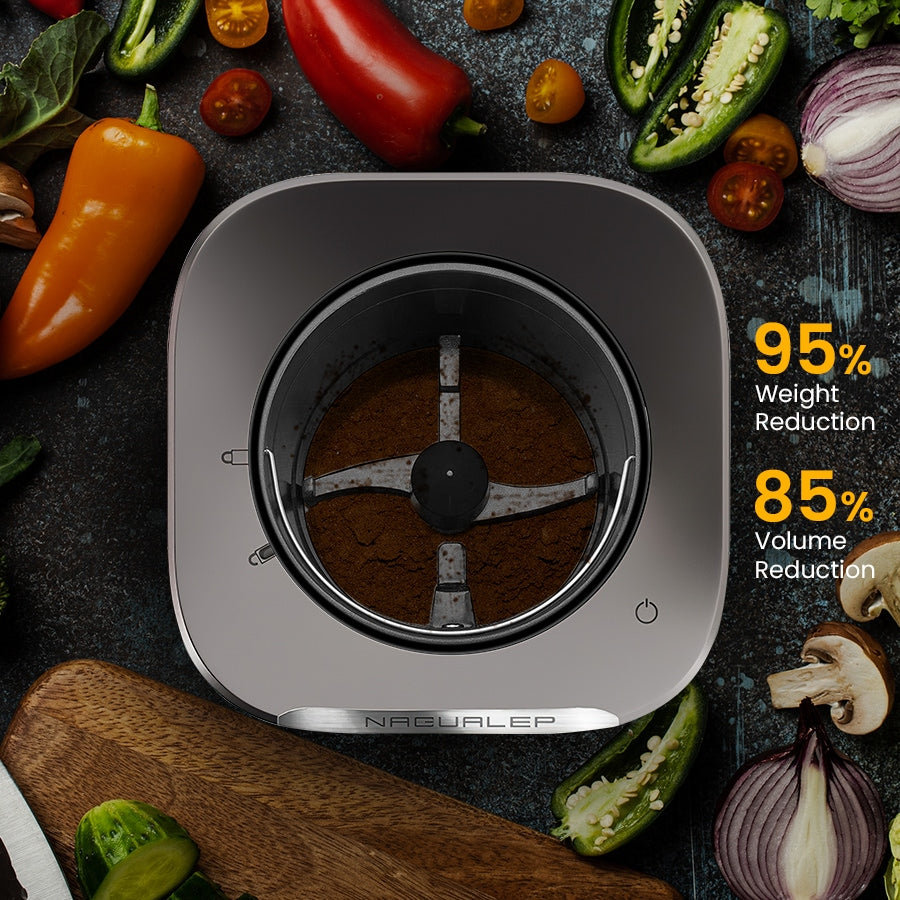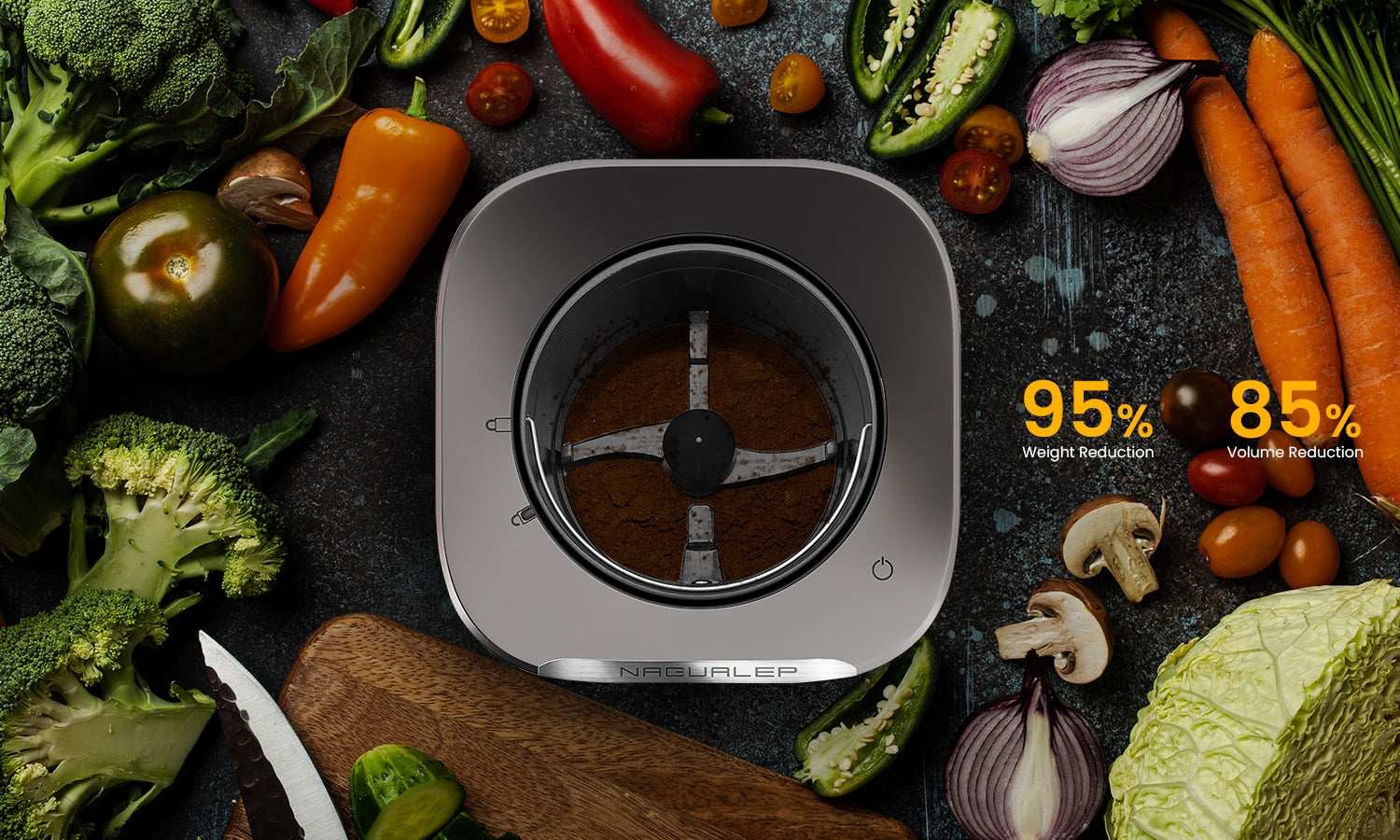 Most of Your Waste Can Go into NA2
What else?

•Coffee grounds •Eggs •Eggshells

•Leafy greens •Legumes •Oats 

•Peels •Plant trimmings •Seafood

•Tea •Tofu  •Sauce •Cheese

•Yard Trimming •Cooked food scraps 

•Small bones  •Meat scraps •Nuts and seeds
What you should never fill?

Large (pork, beef) bones, Shell fish, Plastic Products.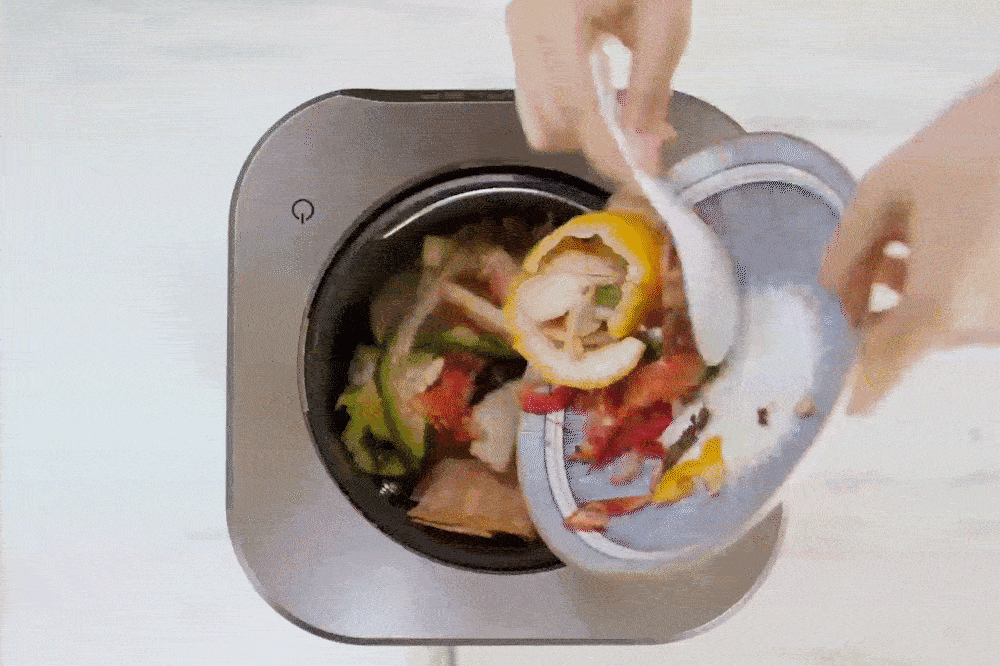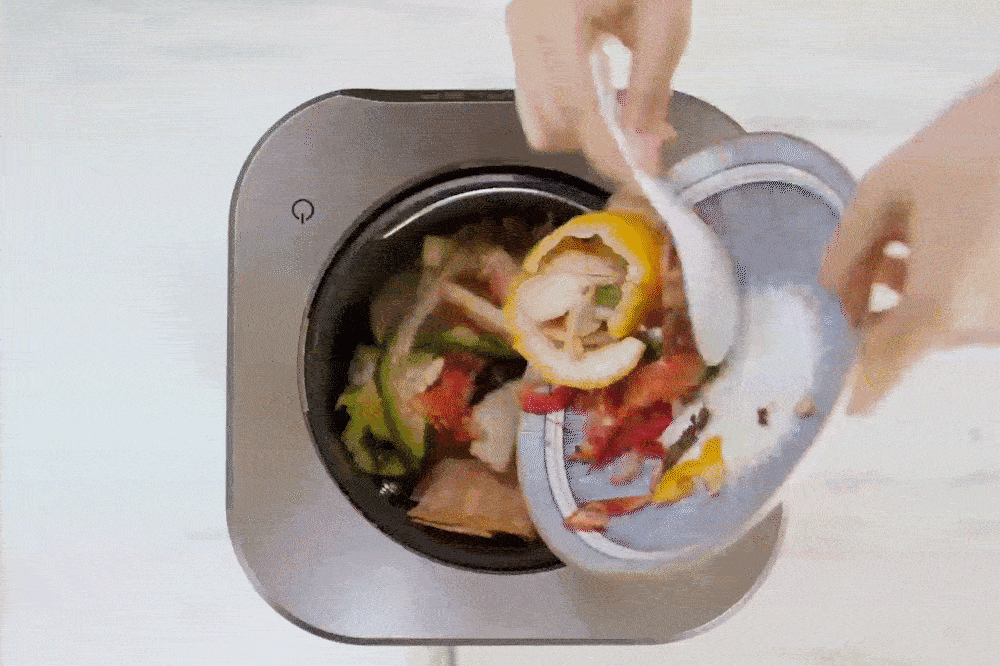 How Does It Work?
POWER UP: Activates with a single press of the button

HEAT UP: The inner bucket utilize high temperature for effective sterilization

GRINDING: Integrated blades efficiently chop the food waste

TRANSFORM INTO 'NAGUAL ORGANIC': After about 3 hours, it transforms your food waste into "Nagual Organic,"
Note: Nagual Organic material suitable for enhancing the soil in your garden.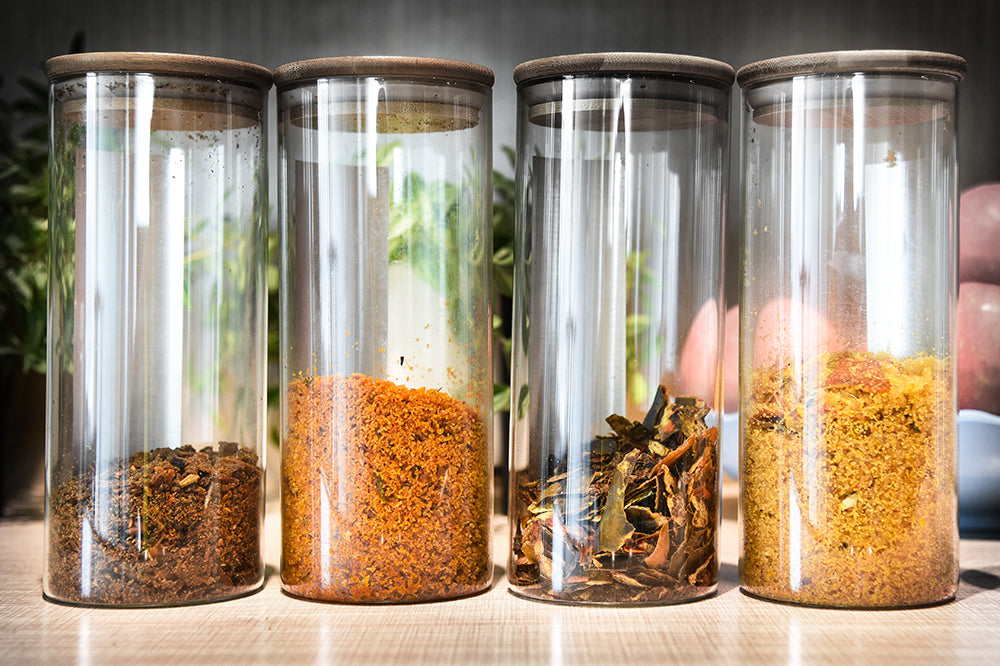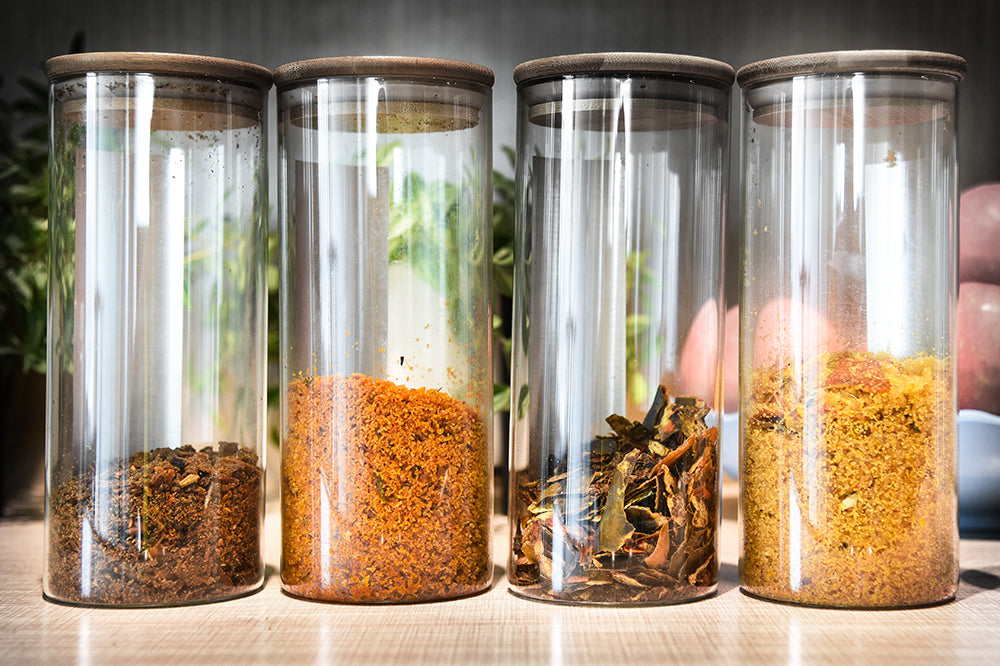 Redefine Kitchen Waste
What is 'Nagual Organic'?

Nagual Organic is a nutrient-dense byproduct derived from food waste. When applied to the soil, it enhances its fertility by enriching it with vital nutrients, fostering optimal plant growth and development.
What you can do with 'Nagual Organic'?

Natural and worm-friendly attraction: placing Nagual Organic beneath the soil's surface naturally attracts beneficial organisms like worms. These organisms consume and digest the organic material, so that it acts as a natural fertilizer, improving soil structure, and creating a thriving ecosystem for plants.
Why Choose NA2?
Drying & Sterilization

No Odor, No Trouble

Effortless Operation

Perfectly Sized

Silent Operation
The inner wall CNC anti-stick polishing and food-grade ceramic Teflon coating prevents sticking. With a heating capability of up to 260 degrees Fahrenheit (126 degrees Celsius), it effortlessly dries the food waste and sterilize at the same time.
Your garbage transforms into odor-free Nagual Organic within 1-3 hours. Two replaceable carbon filters highly reduce the odor.
Simple operation with a sleek design. Its fine material and captivating appearance seamlessly blend with your kitchen environment.
With a width of approximately 10 inches and a height of 18 inches, the Nagual NA2 Auto Garbage Disposer fits seamlessly into any space.
Experience the tranquillity of NA2's low-noise working. With only 44dB of operating noise, you can use it whenever you want without worrying about it disrupting your daily routine.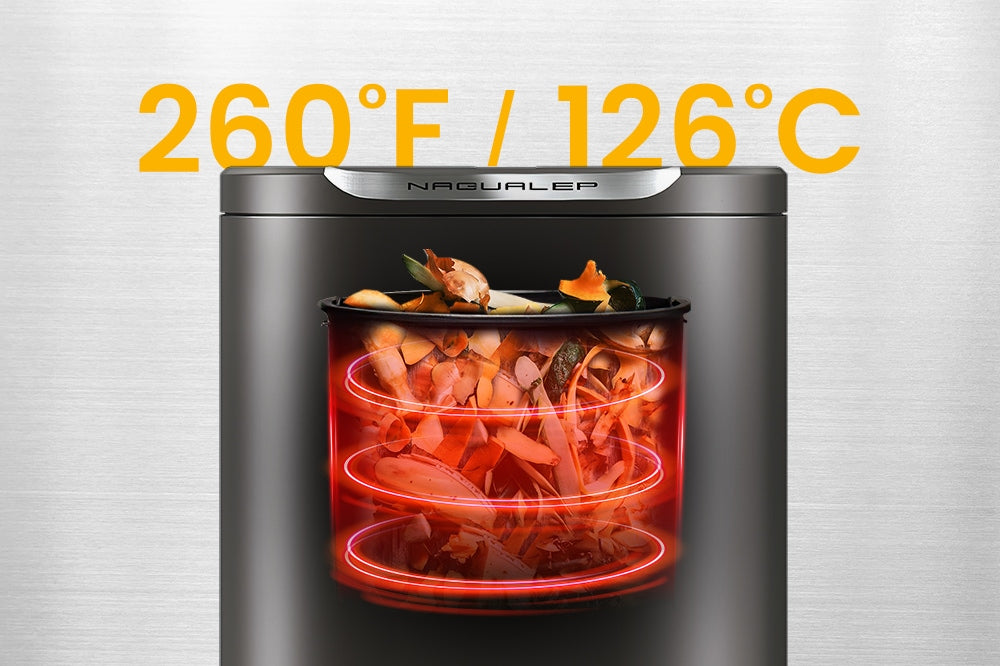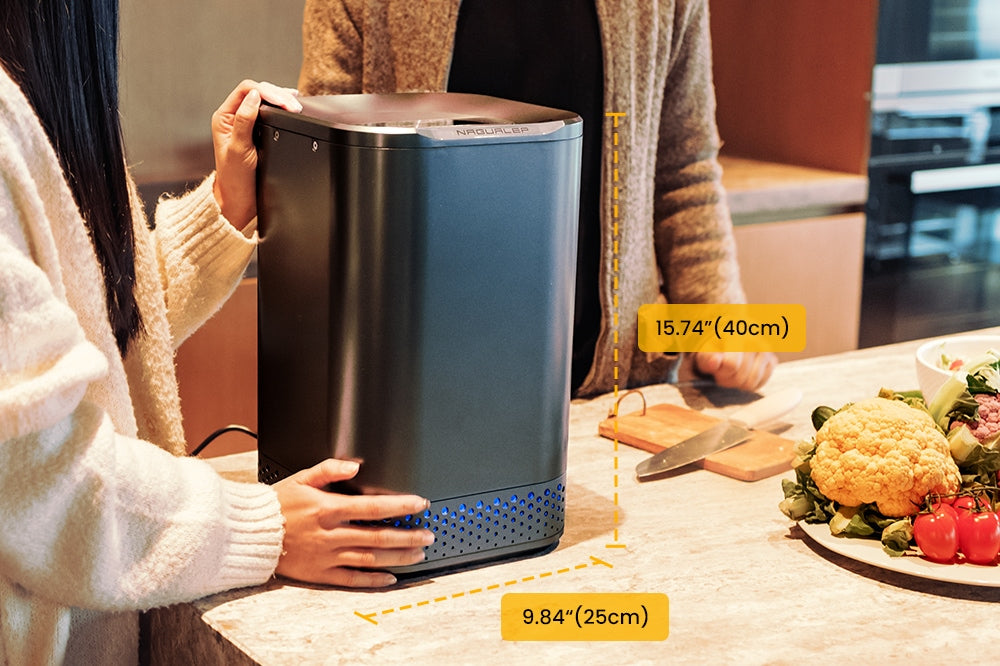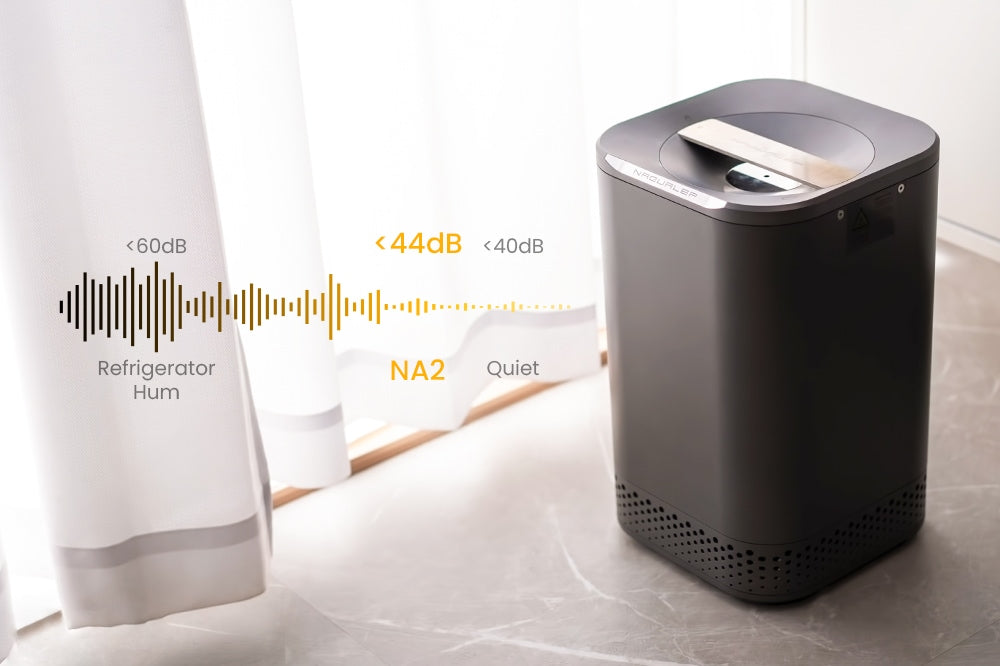 Transforming Waste, Nurturing the Planet
Fight Climate Change

Combat food waste's harmful environmental effects. Reduce greenhouse gas emissions by diverting kitchen waste from landfills, minimizing methane emissions.

Preserve Resources

Minimize landfill waste, and preserve resources. Reduce food waste sent to landfills, preserve capacity, and conserve precious resources.

Sustainable Living Made Easy

Transform kitchen waste into Nagual Organic, and join the movement for a greener world.
Total 5 star reviews: 11
Total 4 star reviews: 4
Total 3 star reviews: 0
Total 2 star reviews: 0
Total 1 star reviews: 0
100%
would recommend this product
Ease of use
Rated 1.8 on a scale of minus 2 to 2
Quietness
Rated 0.9 on a scale of minus 2 to 2
Odor
Rated 0.8 on a scale of minus 2 to 2
Reviewing

NA2 Smart Countertop Garbage Disposal

A big fan

It has significantly reduced my kitchen waste, accepting fruit, veggies, dairy, and meat products. No more flies.

Reviewing

NA2 Smart Countertop Garbage Disposal

I'm thoroughly impressed with the results

The organic byproduct it creates has transformed my plants into thriving beauties. It's amazing how my kitchen waste now nourishes my garden. In my kitchen, no more unpleasant smells lingering around.

Reviewing

NA2 Smart Countertop Garbage Disposal

Highly recommend for eco-conscious people!

This product is a game-changer for reducing waste! It's quick, efficient, and turns scraps into garden fertilizer. I feel proud to lower my environmental footprint while enjoying a quieter kitchen.

Reviewing

NA2 Smart Countertop Garbage Disposal

very well-made

NA-2 unit itself gives every indication of being very well-made and so we expect it to last a good long while. We've run a dozen cycles now with several cycles of the load bucket being put through a dishwasher cycle. There's no indication of any issues whatsoever.

We hate waste and also have several gardens so have composted for years but that's a long process that demands an often smelly compost heap.

Reviewing

NA2 Smart Countertop Garbage Disposal

makes composting incredibly easy

Just fill the sturdy bucket and press the button, wait for about 2 hours then you can see the magical results.
Reviews Loaded
Reviews Added
FAQs
How can I know the processing is completed?

After the processing is completed, the machine will automatically stop running. The blue light at the bottom of the machine will display in a breathing light mode, indicating that the fan and motor will continue running to cool down the kitchen waste. Once the cooling process is finished, the light will turn off.
Are there any minimum and maximum placement requirements?

The amount of food waste to be treated at one time should not exceed the indicator line in the upper part of the inner bucket and should exceed the height of the lower mixing part . Do not operate when the machine is empty
What can I put into the bucket?

You can put most of the food waste into the bucket, including but not limit to vegetables, fruit (including banana peels), leftovers, bread, bakery, processed food, dairy products, eggshells, tea bags, coffee ground, leaves.
What should be taken into consideration when disposing of food residues

Food waste with high sugar content tends to heat up and caramelize during the processing, forming clumps. It is suggested to mix with other food waste.

Food with high oil content may appear damp after processing due to the higher boiling point of oil itself.

If the food waste really wet, you should also put in some dry material so that it doesn't end up with wet outcomes or taking a few cycles to dry it out.
How often should I replace the filter?

The replacement standared is once every 4 - 6 months, depending on the frequencey of use. Even if the replacement time has not yet arived, if you start to worry about the smell, replace it as soon as possible.
How long does it take for the machine to transform the food waste?
Tech Specs
PERFORMANCE

Model No.
NA-2

Working Performance
Weight Reduction: 95%, Volume Reduction: 85%)

Processing Time
1-5 hours

Average Working Time
3 hours per cycle

Noise Level
Quiet: 44dB

Bucket Capacity
2.5 L/84.5oz/0.66 gallon

Deodorizaton
Yes, Deodorize by Activated Carbon Filter (Iodine value (1000+) Replace 2 times / year)

Processing Modes
Drying, Grinding, High Temperature Sterilization, Filtering Odor, Cooling

Inner Bucket
Food-Grade Ceramic Coating

Motor
High-performance DC motor

What can go in the bucket?: "Vegetable & fruit scraps, Bread and grain products, Veggie scraps, Granola, Dairy, Fruit rinds, Pizza & pasta, Sauce etc.
WEIGHT & DIMENSIONS

Net Weight
17.6 lbs; 8 kg

Dimensions
9.84" x 9.84" x 15.74" (25 cm x 25 cm x 40 cm)

Inner Bucket Capacity
2.5 L/ 84.5 oz / 0.66 gallon
POWER

Average Power
150 W

Rated Power
700 W

Rated Voltage
110-120V 60Hz

Electricity Consumption
0.1kWh-0.15kWh
DESIGN

Type
Home kitchen waste disposer, Countertop Auto Garbage Disposal

Finish
Durable, Anti-fingerprint Coating

Lighting
Luminous blue glow

Color
Earthstone Grey
IN THE BOX

Main Parts
Main Unit, Inner Bucket, Activated Carbon Filters, User Manual, Lid, Non-slip Rubber Pads
WARRANTY

All Parts
2-year Limited Warranty